Not a scene likely to silence critics of the £18,000-a-year private college, opened to undergraduates last year by the philosopher A C Grayling in a blaze of controversy.

Fees were set at twice the maximum that can be charged by most universities, since it doesn't get state funding. The college was condemned by many as elitist, and Grayling was accused of speeding the end of public education.

At one point, tensions climbed so high in the summer of 2011 that the renowned academic was forced to flee an arts debate at London bookshop Foyles, when heckling protesters set off a smoke bomb.

Even Terence Kealey, vice-chancellor of Buckingham, the UK's first privately funded university, has argued that a charitable model would be more appropriate: "I don't think education should be like Lehman Brothers, accountable to shareholders." For while the college is "not-for-profit", investors behind the broader set-up do want to see a return one day.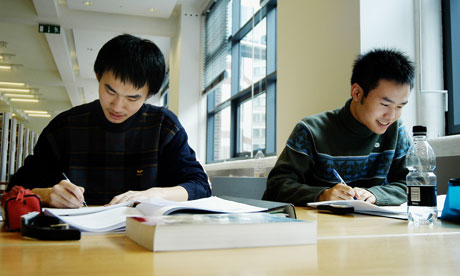 So, it will come as no surprise that the first 56 students who walked through the NCH doors in Bloomsbury's Bedford Square last September were not free of apprehension. Still, no one has dropped out, according to staff.
"I must admit I thought there would be much more of a class division," Tosca Lloyd, 20, says carefully. "Because I was reading the press and it wasn't the best press, I suppose. But all of that has been sort of shattered."
It's a message the college is keen to spread as, deep into the university admissions season, it throws open its doors to students and hacks alike to attract its Class of 2013.

To be fair, the biscuits are handed out as the students discuss Waitrose as a marketing case study. When your class is just 15-strong, a single packet will suffice. That feeling of intimacy persists throughout the building, in which small studies spiral around an imposing staircase up to Grayling's office door, emblazoned "Master".
The self-described "guinea pigs" are falling over themselves to tell me what people have got wrong.
"Lots of people say, you know, why did you take the risk?" says Tosca, a serious-minded philosophy student from Australia. "But I think the fact that those academics were associated with it gave it this amazing credibility, not just the big shots" – she reels off a list that includes the prominent atheist Richard Dawkins, and the physicist Lawrence Krauss, who worked for President Obama – "but also our conveners, our hands-on tutors."
The fundamental sales pitch is simple: Oxbridge in London. "The trouble with Oxbridge? There's just not enough of it," reads NCH's ad campaign. Like Oxford and Cambridge colleges, NCH offers one-to-one tutorials, and shares something of their community feel — and claustrophobia. But there are differences, with Grayling keen on the US university system's breadth.

Daniel Thomas, an excitable 18-year-old from the Isle of Man, did the International Baccalaureate in place of A-levels to keep his options open, and took a similar tack with his degree. "I've always been interested in everything and had my fingers in lots of pies," he says. "I chose to come here because it meant I could branch out, go to philosophy lectures if I wanted."
He should leave with an English degree awarded by the University of London through an arrangement with NCH, as well as a diploma to cover his additional subject — history — and extras such as a professional programme, covering marketing and the like.

Grayling does seem to have tapped into a market of academically able types – NCH says it normally requires three As at A-level – who, for whatever reason, are looking for an alternative to Oxbridge or the red-bricks.
Melody Burke, a poised 18-year-old home-schooled in London, says she was swung by the personal touch, as Grayling "literally sat down and said, 'This is what you get out of it, and the work is going to be like this.' And that was reassuring to me."
Staff even phoned her up when she left her online application half-finished, she notes – perhaps revealing more about pressures on a new institution to secure students than rivals' shortcomings.
Grayling professes delight with "the intellectual community that has grown up here, the way they all talk to another about what they are doing, all go to each other's lectures". And I don't doubt it.

Tellingly, two weeks into their first term, five of the year ran for union president. They promise they still fall out of nightclubs, but one notes, "I haven't missed a lecture and I'm not going to start now."
The downside, of course, is that while the college draws on the Oxbridge model, those ancient ivory towers still come a lot cheaper.

More than 30 per cent of NCH's current students receive either an exhibition, reducing the fees to £7,200 a year – "lower than almost all UK universities" – or a full scholarship, paying no fees at all. The long-term hope is that an endowment fund will allow NCH to be, like Harvard, "needs-blind", able to admit students regardless of their financial situation.

But the reality today is that most pay full whack. No surprise, then, that only around one in five has a state school background; nor that several come from boarding schools. With fees for those in the £30,000-a-year range, you start to realise why parents likely to be footing the bill for NCH might not run screaming at the thought of paying £18,000.

Melody insists that who pays what is "not talked about, the same way as you wouldn't say, 'Ooh, what did you get for GCSEs?'" But such protestations of ignorance don't entirely convince.

There is a sense, too, that when you pay these prices you want more bang for your buck. Swatee Jasoria, the careers adviser who joined from a US law school, explains she's "very familiar with what it takes to be working with students that have different sort of expectations because of what they're paying."

And the argument for choice cannot win over all. "Does anyone have any ideas for what they would like to see during Freshers?" the college asked would-be students in a recent online session.
"Free education?" came the reply.